Mark Brnovich:


How Arizona's Attorney General Is Weaponizing Climate Fears To Keep Out Immigrants
May 1, 2021

Mark Brnovich's Transformation From Independent Arizona AG To Partisan Hack Is Complete
Mar. 16, 2021

Judge Orders Attorney General To Pay $1M In Legal Fees To Regents
"Please let the good people of Arizona know about how their taxpayer dollars are being put to work by the attorney general for yet another failed lawsuit," wrote ASU spokeswoman Katie Paquet"
Feb. 7, 2020

Arizona AG Wants Court To Block Phoenix Anti-Discrimination Law Against Business
Dec. 27, 2018

Arizona Attorney General Mark Brnovich Cheers Court Decision, Explains Why He Wants To End 'Obamacare'
Dec. 20, 2018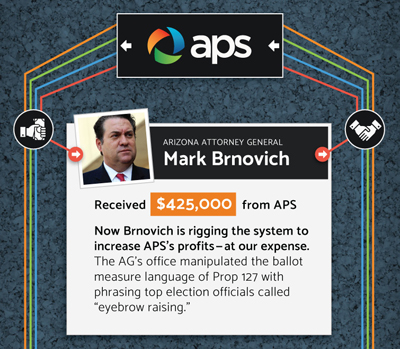 2018


Democratic Challenger: Arizona AGl Mark Brnovich Sides With Special Interests
Oct. 11, 2018

AG Mark Brnovich Swoops In To Help APS In Fight Against Prop. 127
Sep. 18, 2018

A.G. Mark Brnovich Is Shocked! Shocked! To Hear About Charter School Profiteering. (Does That Make Him The Education A.G.?)
Sep. 7, 2018

Brnovich Creates Political Game Over ABOR Tuition
Mar. 23, 2018

Arizona Joins 20-State Coalition Seeking To End 'Obamacare'
Feb. 27, 2018

Arizona Attorney General Makes Last Effort To Deny Licenses To Dreamers
Feb. 17, 2018

AG Mark Brnovich Creates A 'Straw Man' For Our Lawless Tea-Publican Legislature On Higher Ed Funding
Sep. 9, 2017

Arizona Lawmakers Weigh In On Case Pitting Gay Rights, Religious Rights
Sep. 9, 2017

Former Special Agent Tells Arizona Supreme Court Of Brnovich Corruption
May 19, 2016

APS Spent HOW MUCH To Get Mark Brnovich Elected AG?
Dec. 5, 2014




Center for Arizona Policy (Cathi Herrod)
2014 Candidate Questionnaire

Position Sought: Attorney General

Question 9:

Arizona's voter-approved constitutional definition of marriage should be defended to the fullest extent legally possible.

Candidates' Position: Support

Question 11:

Adding "sexual orientation," "gender identity," or "gender expression" to the protected classes of race, religion, age, sex, and ancestry in antidiscrimination law.

Candidates' Position: Oppose

Question 15:
Protecting individuals and businesses from being required to provide services or use their artistic expression in a manner that violates their moral or religious beliefs.
*

Candidates' Position: Support

* Discriminatory "Religious Freedom" laws.



Arizona Political Candidates Hobnob With Cliven Bundy At GOP Picnic
Aug. 22, 2014

Feb. 5, 2014

Gambling Department Director Named By Governor Jan Brewer: Mark Brnovich, Legal Scholar
Mar. 31, 2009