Doug Ducey And The Problem Of Dark Money
Oct. 19, 2018
Without Evidence, Ducey Accuses Garcia Of 'Rigging'
Oct. 2, 2018
Ducey Drops Into Tucson To Highlight Recent Drug Busts, Refuses Questions
Sep. 17, 2018
Gov. Doug Ducey Spoke At Event For Turning Point USA, A Group Plagued By Racism Charges
Aug. 16, 2018
Ducey, Republicans Leave $56 Million For Child Care Sitting On The Table
"
Doug Ducey and his Republican legislative cronies had $56 million in federal money waiting to be spent to help cover the cost of child care and early childhood education for low income families. They refused to spend it."
Aug. 15, 2018
Doug Ducey Only Governor Candidate To Decline Invite To Student-Led Gun-Control Town Hall
Aug. 14, 2018
Ducey Event: Campaign Stunt Or News Conference?
Jul. 13, 2018
Ducey Takes Credit For Criticizing An Obama Immigration Policy That Never Existed
"Gov. Doug Ducey said this week that he has long been opposed to separating immigrant children from their families, citing his criticism of an Obama-era policy. One problem: Such a policy never existed."
Jun. 22, 2018
Dozens Of Likely Fake Twitter Accounts Are Supporting Arizona Gov. Doug Ducey's Re-Election
Jun. 20, 2018
Gov. Ducey Won't Debate His GOP Opponent Because He Is A 'Fringe' Candidate
Jun. 20, 2018
Ducey Doesn't Favor Arizona Ratifying Equal Rights Amendment
Jun. 12, 2018
Uber Experiment Blows Up In Gov. Doug Ducey's Face
May 24, 2018
Bennett Says Ducey Campaign Threatened To Sue Petition Firm
May 12, 2018
Ducey Faces Backlash For Photo With Patriot Movement AZ Group
Apr. 29, 2018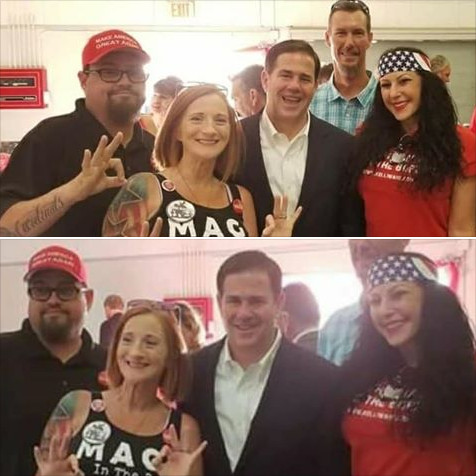 Ducey refused to meet with teachers or the AEA but he met with these members of the Patriot Movement AZ (flashing white-power signs) at the
Mohave County Republican Party's Patriot Dinner at the Mohave County Fairgrounds.
Facebook, Apr. 28, 2018



Ducey's Strategy: Pass His Plan, Then Shame Teachers
Apr. 25, 2018
Ducey's Drive-By: How Arizona Governor Helped Cause Uber's Fatal Self-Driving Car Crash
Apr. 12, 2018
Arizona Gov. Ducey Won't Meet With 'Political' Teachers As Strike Threat Grows
Apr. 10, 2018
Arizona Voters Overwhelmingly Vote To Ban Dark Money But Governor Tosses the Ban
Apr. 10, 2018
Emails Show How Uber Wooed Arizona Governor Before Fatal Crash Ruined Their Relationship
Mar. 28, 2018
Ducey Makes Another False Claim About Superintendents And Teacher Raises
Mar. 15, 2018
Why Is Gov. Doug Ducey Silent On Theranos' 'Massive Fraud'?
Mar. 14, 2018
Arizona Utility Helps Fund Ducey Re-Election Campaign
Feb. 5, 2018
Brahm Resnik Nails Ducey On His Koch Addiction (Are There Rehab Programs For Funding Abuse?)
Jan. 19, 2018
Ducey Tosses Peanuts To Teachers While Throwing A Banquet For His Staff
Oct. 17, 2017
Doug Ducey Sticks With Trump Over Your Health Care, Your Jobs
Sep. 27, 2017
The Sickening Reason Why Gov. Ducey Supports Disastrous
Health-care Bill
Sep. 21, 2017
Ducey's Veto Of Student Press Bill Draws Criticism
May 24, 2017
Remember This Day, When Ducey Stuck It To You, Arizona
Mar. 24, 2017
Gov. Doug Ducey: Arizona Will Not Have Sanctuary Cities
Feb. 6, 2017
Is Ducey Joking? A 4/10th's Of A Percent Pay Raise For Teachers?
Jan. 13, 2017
Arizona Governor Doug Ducey Battles AZ Pot Legalization With Behind-The-Scenes Fundraising
Sept. 19, 2016
Arizona Gov. Doug Ducey Signs Bill Easing Dark Money Rules
Mar. 31, 2016
Ducey Defends Deeper Cuts To Higher Education
Mar. 10, 2015
Arizona Governor Calls Plan To Kick 500,000 Low-Income People Off Of Medicaid 'Responsible'
Mar. 9, 2015
Arizona's New Governor: We Have No Money For Public Education, But Let's Fund This Private Prison
Feb. 12, 2015
Ducey Seeks $70 Million More For Private Prisons
Feb. 3, 2015



Center for Arizona Policy (Cathi Herrod) 2014 Candidate Questionnaire
Please note that Doug Ducey was in support of

"Arizona's voter-approved constitutional definition of marriage should be defended to the fullest extent legally possible." (1 man/1 woman) (Question #9), was opposed to "Adding "sexual orientation," "gender identity," or "gender expression" to the protected classes of race, religion, age, sex, and ancestry in anti-discrimination law." (Question #11) and was

in support of "

Protecting individuals and businesses from being required to provide services or use their artistic expression in a manner that violates their moral or religious beliefs." (Religious Freedom law) (Question #15).

Oct. 19, 2014. Source



Arizona Gubernatorial Candidate Doug Ducey Hails From An Infamous Ohio Organized-Crime Family
Oct. 14, 2014
Doug Ducey Aligns Perfectly With Cathi Herrod On Candidate Surveys
Sept. 30, 2014
Arizona Political Candidates Hobnob With Cliven Bundy At GOP Picnic
Aug. 22, 2014
Gubernatorial Candidate Doug Ducey And His Double-Speak On Religious Freedom
Jul. 2, 2014
Aug. 22, 2013
COLD STONE CREAMERY: Failed Franchisees Attack Doug Ducey Campaign
Oct. 17, 2010
Doug Ducey: Emperor Of Ice Cream Or As Sleazy As They Come?
Aug. 12, 2010
Aug. 8, 2010