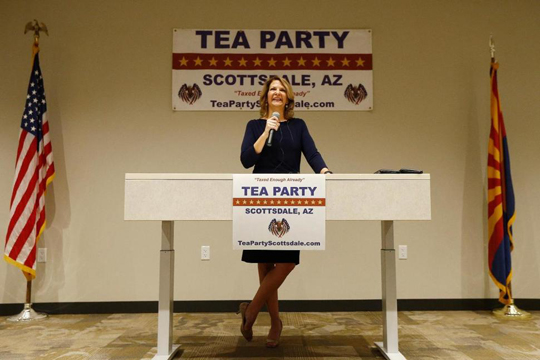 Kelli Ward, May 17, 2018, AP Photo: Ross D. Franklin



Florida GOP Officials Are Running A Private Conspiracy Theory Facebook Group
"
Former Arizona Senate candidate
Kelli Ward
is also a member of this group."
Sep. 16, 2018
An Ode To One Of The Worst GOP Candidates In Recent Memory
Aug. 29, 2018
GOP Senate Candidate Kelli Ward Complained McCain Cancer Announcement Was Timed To Hurt Her Campaign
Aug. 26, 2018
Kelli Ward Associated With Conspiracy Theorists And Racists Long Before Mike Cernovich
"For the Arizona GOP Senate candidate, Paul Nehlen and Cernovich are just the beginning."
Aug. 23, 2018
Arizona GOP Senate Candidate Defends Bus Tour With Far-Right Activist
"
Cernovich spent months peddling the debunked "Pizzagate" conspiracy theory, which alleges high-ranking Democratic officials, including former Democratic presidential nominee Hillary Clinton
, are involved in a child pedophilia ring."
Aug. 19, 2018
Kelli Ward Doctors President Trump Tweet In Campaign Mailer 2 Weeks Before Senate Primary
Aug. 15, 2018
Senate Candidate Kelli Ward Linked To Swinger Sending Unsolicited Penis Pictures To Women Online
"
In an anonymous video posted online Ward was accused of hanging out at a swingers bar and getting drunk quite often."
Aug. 9, 2018
Kelli Ward Melts Down Over Republic's Support For Martha McSally
Aug. 6, 2018
Kelli Ward Broadcasts Photo With Donald Trump Even Though He Asked Her Not To, Source Says
Jul. 28, 2018
Arizona Senate Candidate Kelli Ward And Her Husband Are Admins Of Racist Conspiracy Group On Facebook
Jul. 6, 2018
Arizona Senate Candidate's Husband, Who Is A Top Campaign Surrogate, Spread Conspiracy Theories Online
Jul. 5, 2018
GOP Senate Candidate: It's OK To Jail Kids For Other People's Crimes
"Kelli Ward argued that it's fine to separate children from their parents because 'bad people' exist."
Jun. 19, 2018
Kelli Ward Belatedly Distances Herself From Wisconsin White Supremacist
"Months after a white supremacist in Wisconsin tweeted his support for Arizona U.S. Senate candidate Kelli Ward, she has begun distancing herself from him."
Jun. 14, 2018
Sebastian Gorka Cashed A $5,240 Check From Senate Candidate Kelli Ward For 'Appearance Fee'
May 10, 2018
The Shocking Secret's Kelli Wards Campaign Does Not Want You To Know, Part II
Apr. 16, 2018
The Shocking Secret's Kelli Wards Campaign Does Not Want You To Know, Part I
Apr. 10, 2018
Disgraced Ex-Rand Paul And Mitch McConnell Aide Resurfaces In Arizona's Senate GOP Primary
Mar. 19, 2018
Pro-Gun Senate Candidate Forgets When Sandy Hook Happened
Feb. 22, 2018
Kelli Ward Touts Endorsement From Fake-News Site
Feb. 14, 2018
Kelli Ward Speaks The Words That Bannon, Trump Like To Hear
Oct. 17, 2017
Kelli Ward Gets Nod From Steve Bannon, Laura Ingraham
In Senate Campaign Kickoff
Oct. 16, 2017
Alex Jones Ally Kelli Ward Is Running For Arizona Senate.
Hannity Just Endorsed Her
Aug. 24, 2017
Kelli Ward, Trump-endorsed Anti-LGBTQ Candidate For U.S. Senate
Aug. 22, 2017
Kelli Ward Sends Gruesome Kathy Griffin Picture. Cover The kids' Eyes
Aug. 10, 2017
Kelli Ward Is A Victim Of 'Fake News' And 'Never Trump'
(So Send Her Money)
Jul. 24, 2017
Republican Vulture Kelli Ward Wants McCain To Step Down So She Can Step Up
Jul. 21, 2017
Sharia Law, Snapping Alligators: Best Quotes Kelli Ward's Facebook Q&A
Jul. 18, 2017
Why Is The Trumpish Right Inept At Hardball Politics?
Aug. 26, 2016



"Tea Party candidate Kelli Ward focuses on nutty conspiracy theories instead of working on real issues for Arizonans."



Crazy/Stupid Republican Of The Day — Kelli Ward
Jul. 3, 2016
Kelli Ward's Husband Accused Of Bullying McCain Staffer
Jun. 4, 2016
Listen To John McCain's Senate Challenger Discuss Black Helicopters, Agenda 21, And Government Indoctrination
May 26, 2016
Senator Kelli Ward Hosting Forum "To Address Community Concerns About Chemtrails"
Jun. 23, 2014
Apr. 19, 2014
List Of Arizona Republicans Who Voted For Anti-Gay Discrimination Bill
Feb. 28, 2014
State Senator Kelli Ward Wants To Keep The NSA Out Of Arizona
Dec. 9, 2013