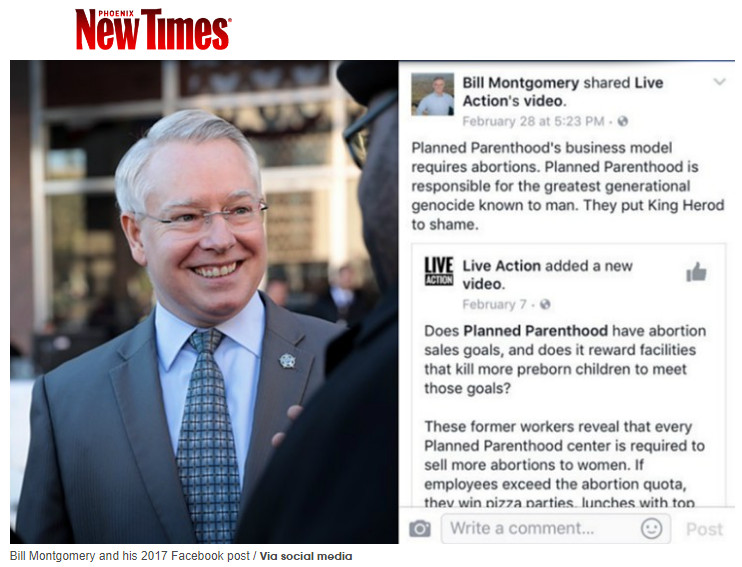 Bill Montgomery in '17: Planned Parenthood Caused 'Genocide'
Sep. 19, 2019
ACLU Alleges Maricopa County Attorney Illegally Withholds Public Records
May 22, 2019
County Attorney Bill Montgomery Accused Of Opposing Victims Rights Bill
Apr. 19, 2019
Arizona Lawmakers, Groups Demand Bill Montgomery Resign Over Juan Martinez Allegations
Apr. 12, 2019
Did Bill Montgomery Dismiss Christine Blasey Ford (And Possible Sex Crime Victims Here)?
Oct. 1, 2018
Montgomery Involved In Plea Deal For Bigots Accused Of Vandalizing Tempe Mosque
Jul. 19, 2018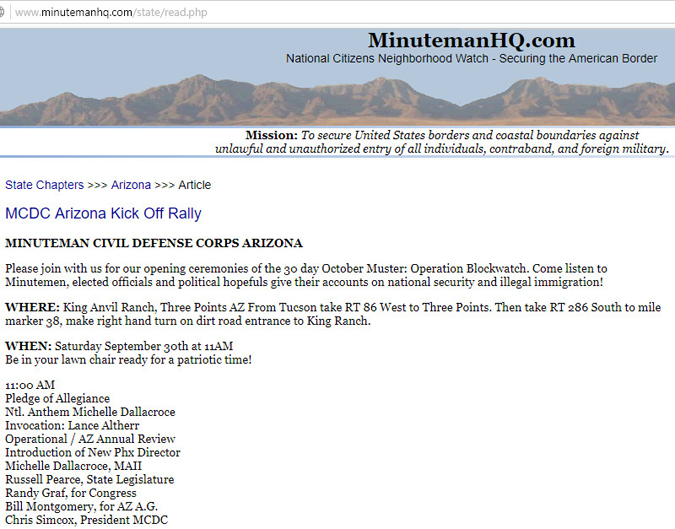 Screen capture taken April 4, 2018. Please note the second name from the bottom.



Maricopa County Attorney Seeks To Usurp Police Control Of Records, Video
May 21, 2018
Arpaio's Criminal Defense & How Bill Montgomery Helped You Pay For Part Of It
Apr. 7, 2017
Maricopa County Attorney Continues To Fight Arizona's Medical Marijuana Law
Feb. 27, 2017
County Attorney Bill Montgomery Continues His Failing Crusade Against Arizona's Medical Marijuana Law
Dec. 22, 2016
Bill Montgomery Opposing Dark Money? Wait...What?
Oct. 19, 2016
ACLU Threatens To Sue County Attorney Over Gay Adoption
Apr. 15, 2015
Montgomery, Quit Splitting Hairs And Let Gays Adopt
Apr. 9, 2015
Veteran Called An 'Enemy' By Maricopa County Attorney Speaks Out
Apr. 2, 2015
Video: County Attorney Bill Montgomery Calls Veteran An 'Enemy'
Mar. 31, 2015
ACLU, Muslim Leaders Demand Maricopa County Attorney Cancel Biased Presentation
Sep. 10, 2014
Debra Milke's Attorney Asks Court To Disqualify Bill Montgomery's Office As Prosecutor
Feb. 5, 2014
Joe Arpaio Henchman Bill Montgomery Milks CIR While Separating Parents From Children
Apr. 16, 2013
Bill Montgomery Looks The Other Way At 1,761 Possible Felony Crimes
Feb. 14, 2013
Bill Montgomery Fights Arizona Voters On Medical Marijuana Law While President Obama Gives Nod To Legal Pot Use In Two States
Dec. 14, 2012
Bill Montgomery Rushes To Arpaio's Aid — Just As Disbarred Predecessor Andy Thomas Used To Do
Apr. 12, 2012
Sheriff Arpaio Endorses Bill Montgomery And Guess Who Gets Involved?
May 1, 2010




Center for Arizona Policy (Cathi Herrod)
2006 Survey Questions For Arizona Candidates

Position Sought: Attorney General

Question 7: Amending the United States Constitution to define marriage as the union of one man and one woman.
Candidates' Position: Support.
Question 8: Adding "sexual orientation" to the protected classes of race, religion, age, sex, and ancestry in antidiscrimination law.
Candidates' Position: Oppose.
Oct. 9, 2006 Source