S

heriff Paul Babeu

:



#RWNJ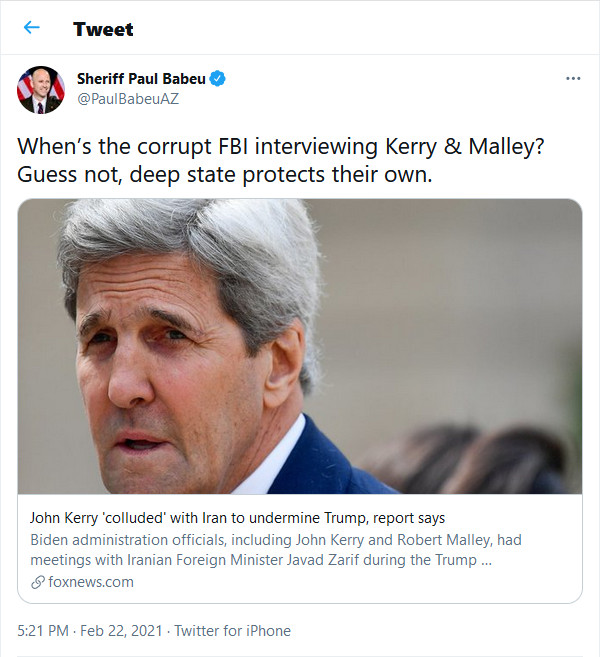 Pinal County Attorney's And Sheriff's Offices Mishandled Distribution Of Funds
Aug. 21, 2018

Arizona Sheriff Denies Misuse Of Money Destined For Jails
Oct. 24, 2017

New Subpoena Issued in Criminal Investigation Of Ex-Sheriff Babeu's Administration Use Of RICO Funds
May, 26, 2017

Babeu Caught With Pants Down…Again?
Mar. 1, 2017

Paul Babeu Remains Sheriff Of Pinal County ... Online
Feb. 2, 2017

A Gay Republican, The Child Abuse He Sanctioned, And The Homophobia Used To Defend Him
"Controversy has consistently followed Babeu through the last decade of his political career."
Sep. 9, 2016

Political Opponents, Other Candidates Blast Sheriff Paul Babeu After PCSO Bans ABC15 Reporter
Mar 10, 2016

Video: Sheriff Paul Babeu Touted Abusive, Inhumane Discipline Of Special Needs Teens At Boarding School
Jan 26, 2016

Sept. 10, 2015

Crazy/Stupid

R

epublican Of The Day — Paul Babeu
Oct. 20, 2014

Pentagon Demands Return Of Equipment From Arizona Sheriff
"An Arizona sheriff trying to help out cash-strapped public safety agencies—or attempting to curry political favor in an election year—apparently ran afoul of Pentagon rules when he lent out surplus military equipment and supplies starting in 2010."
Sep. 16, 2012

Paul Babeu Falsely Claims He's Always Been Pro-Life In Latest Campaign Video, Old News Articles Detail Flip-Flop On Issue
"Politicians do it all the time -- the classic distorting the truth beyond recognition so long as there is some nugget of truth that remains. Paul Babeu, who is running for a seat in Arizona's Fourth Congressional District, isn't wasting time on that anymore."
Apr. 23, 2012

Paul Babeu Touts Gay Rights While LGBT Inmates In His Jail Suffer
Mar. 22, 2012

Mar. 8, 2012

Ex-Boyfriend Files $1 Million Lawsuit Against

S

heriff Paul Babeu
Mar. 6, 2012

Hypocrite Sheriff Paul Babeu Now Wants Investigation Of His Ex-Boyfriend After Saying He Wouldn't Seek Retaliation
Feb. 22, 2012

Paul Babeu's Mexican Ex-Lover Says Sheriff's Attorney Threatened Him With Deportation
Feb. 16, 2012