Jarrett Maupin:


Phoenix Protest Organizer Jarrett Maupin Blames Other Groups For Thursday's Damage
"This wasn't the first time something like this has happened at a Maupin-organized event. "
May 29, 2020




Apology From Racist Club CRU Was Staged, According To Former Member
"
Rev. Maupin vehemently denied the allegations and called them "an insult""
Apr. 26, 2019

The Lie: Reverend Jarrett Maupin Framed Phoenix Mayor With False Child Sex Crimes Accusations
Sep. 25, 2018

As Jarrett Maupin Sought Justice For A Phoenix Family,
He Also Asked Them For Cash
Jul. 11, 2017



Crazy/Stupid Republican Of The Day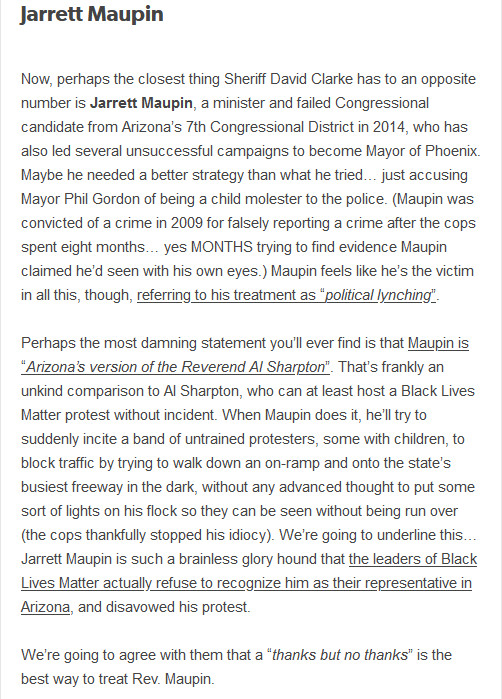 Apr. 1, 2017


Who Is Jarrett Maupin? Man Behind Phoenix's Police Protests Is A Rights Leader — And A Paid Political Consultant
Jul. 25, 2016

Valley Civil Rights Leaders Angrily Denounce Jarrett Maupin
Jun. 21, 2015



Center for Arizona Policy (Cathi Herrod)
2014 Candidate Questionnaire

Position Sought: U.S. House of Representatives CD-7

Question 3:

Arizona's voter-approved constitutional definition of marriage should be defended to the fullest extent legally possible.

Candidates' Position: Support

Question 4:
Protecting individuals and businesses from being required to provide services or use their artistic expression in a manner that violates their moral or religious beliefs.
*

Candidates' Position: Support

* Discriminatory "Religious Freedom" laws.



Strippers For Jesus
"The Rev. Jarrett Maupin is running for office—with help from a few pole-dancing friends."
Jul. 30, 2014

Phoenix Man Sentenced For Lying To The FBI
Sep. 21, 2009

Jarrett Maupin II Resigns From School Board As He Prepares To Plead Guilty To Federal Felony
Apr. 21, 2009

Jarrett Maupin, Former Phoenix Mayoral Candidate, Arrested By Sheriff's Deputies
"Maupin is accused of lying to sheriff's investigators when he told them that his former political opponent, Phoenix Mayor Phil Gordon, had broken the law in some way."
Nov. 20, 2008