Faithful Word Baptist Church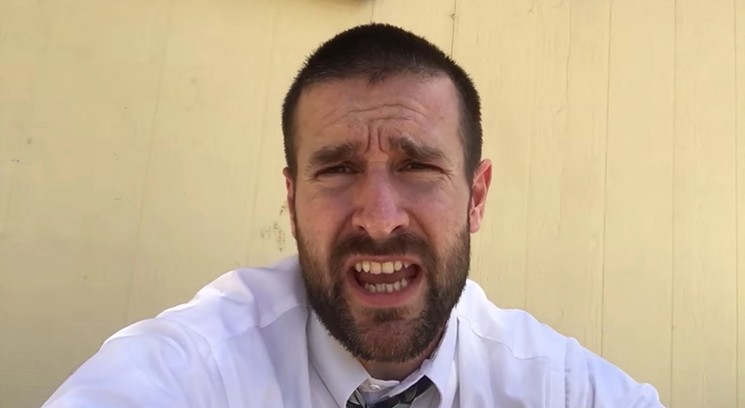 Pastor Steven Anderson of Tempe's Faithful Word Baptist Church. Screenshot via YouTube.
Faithful Word Baptist Church is a fundamentalist Independent Baptist church in Tempe, Arizona, that was founded by Steven Anderson. Members of the church meet in an office space that is located inside a strip mall. In August 2009, the church received national attention when Anderson stated in a sermon that he was praying for the death of then-president Barack Obama. The Southern Poverty Law Center (SPLC) listed Faithful Word Baptist Church as an anti-gay hate group, citing its pastor's "extremely radical stance" that

homosexuals should be judged and executed

according to the Law of Moses. Its documentary titled Marching to Zion was labeled as antisemitic by the Anti-Defamation League. Its pastor was refused entry to South Africa, Botswana, Jamaica, Canada, the United Kingdom, the European Union, the Republic of Ireland, Australia, and New Zealand.
Sources: Wikipedia, Ballotpedia & Vote Smart





Christian Hate-Pastor Steven Anderson Has Found A Way Around His YouTube Ban
Sep. 8, 2020



In The Midst Of Infighting, Anti-LGBTQ Church Network's Website And Social Media Disappear
Feb. 21, 2020



'Death to Gays' Pastor: Fires Ravaging Australia Because "It Banned Me"
Jan. 6, 2020



Australia Bans Homophobic Pastor Who Said 'I Wish Every Homo Would Die'
Jul. 24, 2019



Here's What Got Extremist Pastor Steven Anderson Banned From Ireland
May 20, 2019



Anti-Semitic Arizona Preacher Steven Anderson, Who Says Homosexuals Should Be Executed, Banned From Netherlands
May 2, 2019



"Kill The Homos" Pastor And Hate Group Leader Steven Anderson Pushes Into The Last Frontier
Apr. 3, 2018



Arizona Preacher Who Called For Gay People To Be Stoned To Death Banned From Jamaica
Jan. 30, 2018



Botswana To Deport Tempe Pastor Who Made Anti-Gay Comments
Sep. 20, 2016


Homophobic American Pastor Steven Anderson Prohibited From Bringing His Bible-Thumping Fuckery To South Africa
"
Marking a big win for South Africa's LGBT community, Home Affairs will prohibit American anti-gay pastor Steven Anderson from visiting the country."
Sep. 13, 2016



Tempe Pastor Hails Orlando Massacre For Leaving '50 Less Pedophiles In This World': Video
Jun. 13, 2016



Meet The Pastor Who Told Me He Hoped I Got Brain Cancer And Died
Feb. 2, 2016



Oh Lord, Spare Me! Another Anti-Gay, Anti-Semitic, Islamophobic Pastor Is Coming to Dearborn, Mich.
Jun. 22, 2015



Anti-Semitic Pastor Steve Anderson Promotes Holocaust Denial
"Steve Anderson the anti-Semitic pastor of the
Faithful Word Baptist Church
in Tempe, Arizona, denies the Holocaust in a video he posted to YouTube last week, claiming that the millions of Jews who were gassed and burned in ovens simply died of hunger and disease due to forced labor and war."
Jun. 1, 2015



Pastor Calls For LGBT Holocaust To Eradicate AIDS By Christmas
Dec. 3, 2014



Pastor's Wife At Faithful Word Baptist Excuses Domestic Abuse
Jan. 20, 2011



Protesters Rally Against Pastor's 'Why I Hate Obama' Sermon
"
The pastor delivered a sermon last month that was entitled, "Why I Hate Barack Obama," and called on his parish to pray for the death of the president."
Sep. 7, 2009